Messy Church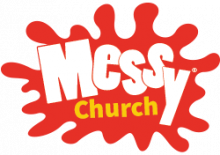 Messy Church is a place for adults and children of all ages to learn together and to discover God's love.
Crafts for all ages.
Construction and play area for younger children.
Story and singing for all ages.
Lunch provided.
Messy Church is based in the Parochial Hall, Sowerby and is held 8 times a year on a Saturday morning 11am-1pm.
No Booking necessary.
Please contact Pauline Alderson tel. 07792 042941 or email [email protected]
MESSY CHURCH AT EASTER 2021
Twenty four Messy Church families with 45 children received an Easter Craft Bag on Good Friday, enabling them to make, bake, and create Easter crafts. At 4pm on Good Friday a Messy Church zoom service was held and families were invited to hear the Easter Story.
The crafts in their bags included a "Decorated Egg" competition. This was judged by Rev. Pauline who chose the three winning eggs.